Dr. Antigone Argyriou's Training
Hofstra University, Bachelors of English Literature and Biology
Hempstead, NY
Saba University School of Medicine
Saba, Dutch Caribbean
Physical Medicine and Rehabilitation residency at Montefiore Medical Center
Bronx, NY
Pain Medicine fellowship at Montefiore Medical Center
Bronx, NY
Long Island Pain Management Doctor
Dr. Antigone Argyriou attended medical school at Saba University and completed her internship in Internal Medicine at Nassau University Medical Center, where she received the Intern of the Year Award.
Dr. Argyriou then went on to do her Physical Medicine and Rehabilitation residency at Montefiore Medical Center for the Albert Einstein College of Medicine, serving as chief resident in her final year. She stayed at Montefiore to complete a Pain Medicine fellowship. She also received her certification in medical acupuncture.
After finishing her training, Dr. Argyriou worked at a large neurology practice for several years. While there, she started the pain medicine program and served as Director of Pain Management.
Now, as a pain management doctor at Spine Medicine & Surgery of Long island, she takes a multimodal approach, using the optimal mix of treatments to tackle the multiple aspects of pain that can cause dysfunction. Whether non-surgical back pain treatment or conservative solutions for neck or facial pain, she provides patients with personalized treatment plans tailored to their specific goals, needs and comfort level.
Dr. Argyriou is also very active in advocacy work and is a past president of the New York State Society of Physical Medicine and Rehabilitation. She was appointed to the American Academy of Physical Medicine & Rehabilitation (AAPM&R) Reimbursement Policy and Regulatory Affairs Committee and is currently serving as the alternate CPT advisor for Physical Medicine and Rehabilitation for the American Medical Association.
In her spare time, it's important to Dr. Argyriou that she practices what she preaches by staying healthy and active. She's interested in the anti-inflammatory diet and likes to explore new delicious but healthy recipes. She also indulges her athletic side by going to the gym, swimming, walking her dog, riding her bike and, most recently, coaching a girls' youth basketball team. When relaxing, you can find her reading fiction novels and doing puzzles.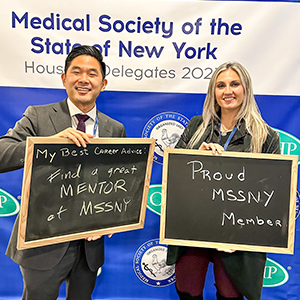 Find out how we can help you achieve freedom from pain. To get started, schedule a consultation with our Long Island spine surgeon today!
Schedule a Consultation